Our second #GivingTuesday Shelter Gala was an incredible evening of joy and sharing. 
We are excited to share with you, we received over $40,200 in donations toward our mission of providing direct support and advocacy to our neighbours in the Downtown Eastside!
We feted our shelter residents with an outstanding meal, shared messages of solidarity and support, watched a few holiday videos, and gave out gifts. The holiday season is truly in full swing!
All donations for the #GivingTuesday Shelter Gala will help us continue our work of providing survival supports, compassion, and building community in the Downtown Eastside, no matter what the future may bring.
And our Shelter Gala Partner, Odlum Brown Limited, shared a beautiful collage of their teammates volunteering at FIRST UNITED in past years. We're so grateful for their ongoing support of our mission and as a Shelter Gala Partner.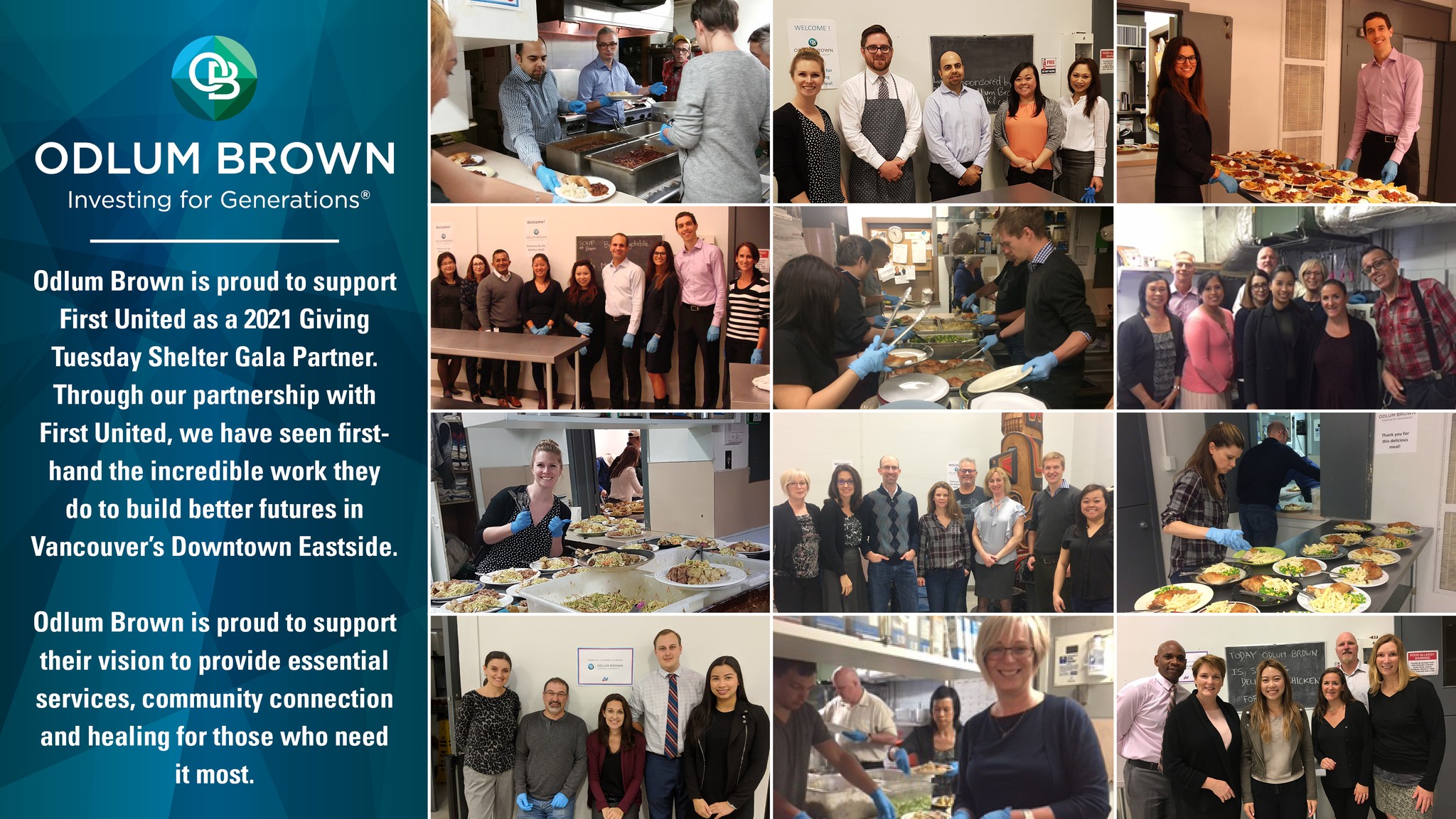 Our deepest thanks to Chef Kym Nguyen and Sous Chef Carlysle Stonehouse, for providing and cooking the meal.
The special three-course meal featured roasted fall squash salad with a yuzu brown butter vinaigrette, roasted apple and toasted pumpkin seeds; cola braised beef cheek (donated by Two Rivers Meats) with smoked scallion mash potato, braised cabbage and mushroom gravy. The vegetarian option included miso glazed vegetables, instead of beef cheek. Dessert was chiffon cake with creme anglaise and stewed apples.
All gala tables that were purchased by donors were decorated and named for the donor; goodie bags were given out to every attendee with treats.
Didn't make a gift in time but still want to help? You can still donate to support our ongoing work, and all donations will be doubled up to $225,000 until December 31!
*We chose not to photograph our community members in order to respect their privacy and autonomy, in keeping with ethical practices of community engagement in the Downtown Eastside.