The following liturgy video and podcast episode are part of FIRST UNITED's Spiritual Care ministry's Advent Awakening series. 
Over the coming weeks we're sharing two different forms of Advent content:
"Advent Awakening" video series by Rev. Jennifer Goddard-Sheppard, Interim Spiritual Care Director, and some accompanying text.
"An Uncomfortable Advent" podcast series by Lauren Sanders, Indigenous Spiritual Care Chaplain, and Pastor Peter Sanders, Ordained Clergy with Presbyterian Church USA.
Advent Series – HOPE
Listen to the latest episode from An Uncomfortable Advent podcast: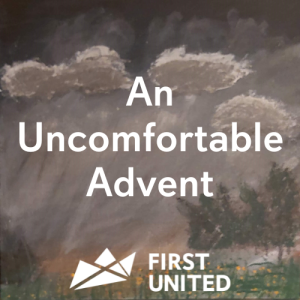 Watch the Advent Awakening video below: HOPE
Advent Candle Lighting Liturgy
First Sunday of Advent
HOPE
On this Advent Sunday of Hope we are to "Keep Watch and Be Ready"
Ready to see and hear the signs of Hope. Ready to hear the truth of HOPE WITH US and what that looks like in our ministry and service. "Hope lives here" is what we say at First and we faithfully and prayerfully continue to respond with hope to the ever-present needs in our community. Hope lives here.
Hope.
"May all your dreams be based on the belief that they can be reached.
"For everything that was written in the past was written to teach us, so that through endurance and the encouragement of the Scriptures we might have hope…May the God of hope fill you with all joy and peace as you trust in him, so that you may overflow with hope by the power of the Holy Spirit. (Romans 15: 4& 13)
Lighting the Candle of Hope
Leader: Advent is the season of preparation and waiting.
All: We have prayerful work to do.
Leader: As we light this candle, we join with many others around the earth, proclaiming our faith and our prayerful intentions to be prepared and to do the work.
All: We wait expectantly. We wait with hope. A hope that is for all people. A light of hope that shines for all.
Leader: Be the hope.
All: We will be the hope with Creator God being our helper.
Prayer of Hope for the People
Leader: With heartache and heartbreak, we enter into the Holy presence.
They cry out. Hear us! See Us! Help us! Heal us!
The people live in tents and lay dying on the streets.
The pandemic, the poverty, the pathetic state of affairs. Will this always be with us?
We despair and deny. We doubt that anything will change.
All: Forgive us our hopeless doubts and trespasses as we forgive those who hopelessly doubt and trespass against us.
Shine and ignite the light of hope upon us and within us. Ground us in the glory of the great creation and the power, possibility and potentiality that is flowing through the universe. Ignite our hopeful actions that help to make the kingdom come. Amen.
---
If you'd like us to send you video or text files, we would be pleased to send you an mp4 video file and/or a Microsoft Word document directly. Please send any requests to [email protected].