December 3, 2020 Update:
You did it! You helped us surpass our goal and donated $65,035 towards our mission of providing direct support and advocacy to our neighbours in the Downtown Eastside! Thank you! Read more about the Shelter Gala, and check out videos and pictures below. Didn't make a gift in time but still want to help? You can still donate to support our ongoing work, and all donations will be doubled up to $100,000 until December 31!
December 2, 2020 Update:
Our first-ever #GivingTuesday Shelter Gala was last night, and what an incredible evening! We feted our shelter residents with an outstanding meal, shared messages of solidarity and support, watched a few holiday videos, and gave out gifts. The holiday season is truly in full swing!
Thanks to your generosity, we've already surpassed our original goal of $50,000, and have raised $61,600—only $3,400 shy of our stretch goal! All donations for the #GivingTuesday Shelter Gala will help us continue our work of providing survival supports, compassion, and building community in the Downtown Eastside, no matter what the future may bring.
Our Presenting Partner, Chandos Construction shared this message about why they give and the impact they hope to have in the world:
And our Shelter Gala Partner, Odlum Brown Limited, made a video about their belief in giving back to communities where their employees live and work:
There's still time to help! Our stretch goal is $65,000 and your donation will be doubled thanks to the support of some of our generous donors. We're so grateful to the outstanding folks who believe in our mission and stand in solidarity with our residents and neighbours in the Downtown Eastside: the impact we're able to achieve is possible because of you. Thank you.
Our deepest thanks to our volunteers Executive Chef Robert Bartley of Canucks Sports and Entertainment, and his sous chef Yadira Peralta for providing and cooking the meal, and to Kim Bartley for her outstanding work in preparing the hospitality, decorations, and gift bags!
Clockwise from top left: Executive Director Carmen Lansdowne sits at one of our decorated Gala tables; Fund Development Manager Katie Bricknell Koncan prepares a table for guests; all Gala tables that were purchased by donors were decorated and named for the donor; goodie bags were given out to every attendee with treats; Chefs Robert Bartley and Yadira Peralta are ready to serve the first course! 
We chose not to photograph our community members in order to respect their privacy and autonomy, in keeping with ethical practices of community engagement in the Downtown Eastside. 
Original post, posted on November 30, 2020
This year, there's a lot of talk about 'self-care.' From taking walks, to connecting with a friend, or treating yourself to a small luxury, doing things that 'fill our cup' can make the hard things a little easier.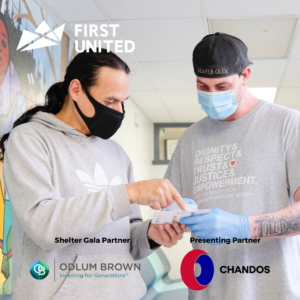 But when you're homeless or struggling, it's hard to treat yourself. That's why we decided to do something special for the folks living in our shelter.
On December 1st, we're transforming our dining hall into a COVID-safe, physically-distanced community celebration of resilience in our first #GivingTuesday Shelter Gala. The 40-or-so folks living in our shelter deserve to be celebrated and treated and have their cups filled. We're honouring them with a gourmet three-course meal with entertainment, messages of support and solidarity, and gifts.
We safely feed these folks every night and have thorough precautions in place to ensure their (and our staff!) safety and wellbeing. We're just making this night extra special.
We're raising $50,000 for the Shelter Gala to support our ongoing work providing critical survival services, advocacy, and community connection in the Downtown Eastside.
With the help of dozens of supporters who have purchased tables, our Presenting Partner Chandos Construction, and our Shelter Gala Partner Odlum Brown Limited we're over 70% of the way to our goal!
Plus, Chandos Construction is matching all donations up to $10,000 from noon on November 30th to noon on December 3rd. This is on top of our existing winter campaign matching, which means all donations during those 72 hours will be tripled!
We invite you to support our first-ever #GivingTuesday Shelter Gala. By donating, you will help provide supports like shelter, food, compassion, and comfort, have your donation tripled, and make this an unforgettable night for those who call First United home.
We'd also like to extend our deepest thanks to our volunteers Executive Chef Robert Bartley for generously supplying and creating the three-course meal, and Kim Bartley for her outstanding work in preparing all of the hospitality, gifts, and decorations for this event.