Today on International Overdose Awareness Day, we grieve the friends and loved ones we've lost to drug poisoning. Someone close to us, a mom, wrote this poem about her son who is one of our neighbours in the Downtown Eastside.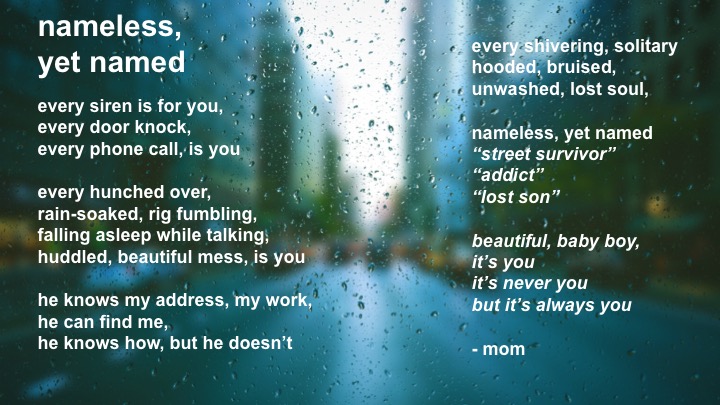 nameless, yet named – a mother's poem
21,000 Canadians have died from drug toxicity since 2016, 7,300 of whom were British Columbians. Since the pandemic began, overdose deaths have surpassed all deaths by car accidents, suicides and homicides combined in BC. In the past several years in B.C., fentanyl was detected in 85% of overdose deaths. This is why we need to protect our loved ones, end the war on drugs, and have safe supply.
Do you know that we saved 50 lives by reversing overdoses last year? We're raising $20K to support a neighbourhood where every person's worth is celebrated and all people thrive. To do that we must keep providing harm reduction support to save lives.
Support us now by making a donation today.
And, this upcoming election, make your vote count by finding out where our leaders stand on the drug toxicity crisis.